OTT platforms have witnessed massive growth in recent years. With the pandemic hitting the world and movie theatres suspending services, internet streaming platforms have gained more attention than ever. OTT services have almost transcended the traditional streaming services like cable, satellite TV, and DTH. OTT or 'over-the-top' is a service that streams video content over the internet via apps or websites rather than conventional distribution networks. OTT platforms started off as content hosting sites and later began producing original content, which earned a lot of popularity among the audience. One can stream their favorite content on the best OTT platforms with a stable internet connection and any device including smartphones, tablets, laptops, or smart TVs.  
Why Chose OTT Platforms? What are the benefits of OTT Platforms?
OTT is changing the face of Indian entertainment by streaming shows before TV and providing an option to live stream sports events. Streaming platforms have kind of providing a solution for increasing content consumption with their wide range of compelling content and personalization. Flexibility is one of the main reasons people choose OTT over traditional cable TV. You don't have to wait for your favorite show to air on TV and instead watch the premium content when you wish. What more do you need? We are at a stage where everything is wanted immediately in an instant. OTTs make sure that their audience can access their favorite seasons and episodes as soon as possible.
Another advantage is that one does not have to be in a particular place to stream content. With OTTs, you can watch content anywhere, anytime. There are many more pros to OTT services which makes them the most sought-after medium of content streaming in Indian and elsewhere. Instant playback, improved quality, multi-device streaming, ad-free experience, unique and fresh content, and pocket-friendly subscription plans are some of them.
OTT streaming offers complete control over the content and experience to its users. Consumer freedom is an important factor in streaming today. With OTT services the users can choose what they want to watch, at what time, and on what device, and also pay only for the content they need. Live streaming of sports events is another big boon that OTT has rendered to its audience. Imagine watching an important football match and the power goes off or the antenna misbehaves. Yes, we have all gone through that but not anymore. Watch live matches on your phone without any disruptions or ads. Doesn't it sound amazing? This is exactly what every OTT service promises its customers.
The growing demand for new and original content is another reason to subscribe to these apps. OTT platforms curate content for their users. One can filter the content and get personalized content suggestions through algorithms. Binge-watching your favorite shows and movies have now become easier with the advent of OTTs.
Increasing internet access and bandwidth consumption has contributed to the growth of OTT platforms and vice versa. All major ISPs have joined hands with different OTT platforms to provide bundled benefits for their broadband and postpaid customers. This way, customers will have access to hassle-free entertainment without worrying about the OTT platform subscriptions.
YuppTV Scope, OTT Platform and its Benefits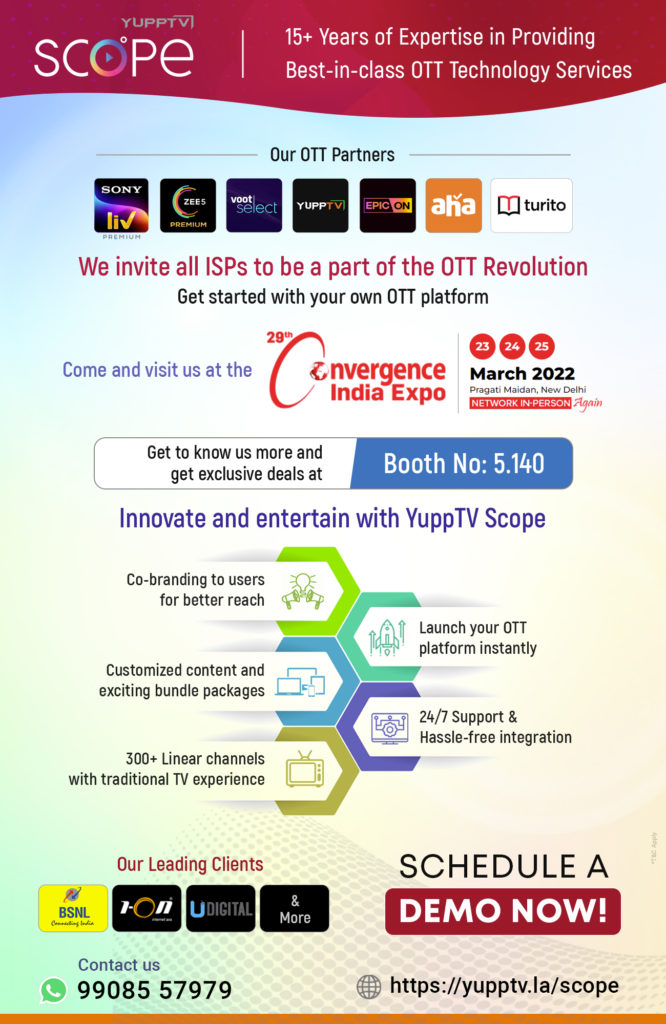 YuppTV Scope is an OTT aggregator that hosts most of the popular OTT platforms. But what is so special about it? The catch is its single subscription plan. Yes, that's right. More than 8000 movies, 500 TV shows, and 300 plus Live TV channels across different platforms, all at one price. Today, OTT is the most sought-after medium for streaming your favorite shows, movies, and TV channels. But individual subscriptions for each channel will not be economical since all OTT apps have different subscription plans and models. YuppTV Scope solves this problem by introducing a single subscription to watch all premium content across popular OTT apps like ZEE5, SonyLIV, Hotstar, Voot, YuppTV, and Aha.
Entertainment is something we all need in our lives and OTT platforms have made sure that people do not miss any new movie or show. OTTs have become a part of our daily life and have influenced many creators to come up with exclusive content.