Haven't we always been wondering about what the whole entertainment industry is doing, that their ratings have sky-rocketed? Well, we know it can be confusing to understand every chunk of information about success and failures. But what if we have a proposition that could give you both information and a rapid success rate?
YuppTV Scope now welcomes ISP Providers into the niche as we believe in the statement "Grow and let grow". We know right? Just like "Live and let live".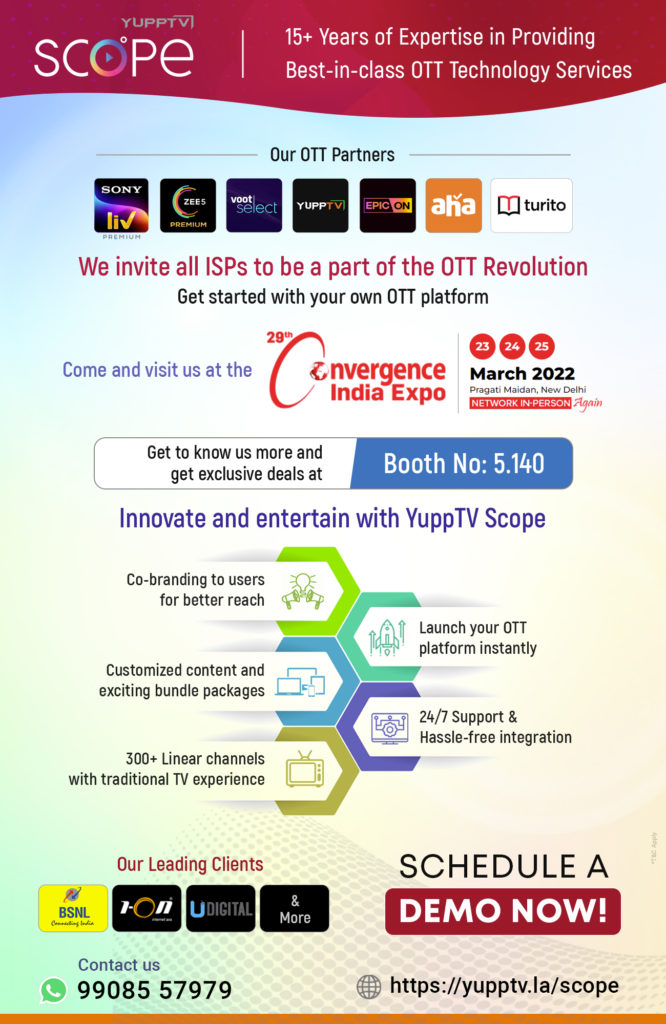 YuppTV scope is the world's first platform to launch this unique product offering that requires only a single subscription to access both Live TV & OTT content. As in the customers can watch 400+ Live channels, 1000+ TV Shows, 500+ Originals & 10000+ Movies from our partner apps – SonyLIV Premium, Zee5 Premium, Hotstar, Voot Select, EPIC On, Aha, YuppTV. All of this in a single subscription which would also be budget-friendly.
What's a Broadband Connection?
Because of its fast access speeds, broadband Internet service is the most popular type of Internet access, it is available in four main forms: DSL (or Digital Subscriber Line), fiber-optic, cable, and satellite. The only non-broadband internet service available is dial-up, and while it is less expensive, most Internet users are migrating to the quicker broadband Internet connection. Get to know the benefits of OTT and other features like Pricing, Trial offers, Inclusion of other apps, and more.

What is an OTT Platform?
OTT refers to over-the-top video content provided using high-speed internet instead of traditional cable or satellite providers. So basically, OTT means consuming content through Hulu instead of using a TV channel. OTT's sharp growth over the past few years is mainly due to Netflix and the various perks it provides. These are original features as well as a large selection of titles to choose from. Now you may watch OTT content through an actual TV, but the connection isn't a satellite, it's through the internet and this is what makes it different. Any OTT provider is one that supplies video content through an internet connection and includes Disney, Hotstar, Hulu, Netflix, Amazon Prime, Zee5, Voot, etc.
Also, we have officially partnered with content providers and have seamlessly integrated their Content Catalogue & Subscription APIs into our YuppTV Scope Platform. Know how the world of OTT platforms is evolving day by day with this article.
Now, let's talk about Broadband Connection along with OTT platforms offering thousands of great shows and movies. Sounds exciting, doesn't it?
What are the benefits of launching your OTT platform with YuppTV Scope?
Instantly launch your OTT platform
Get hassle-free integration and support
Create a strong presence for your brand
Give high value proposition to your customers
Reduce churn rate and increase user retention
Whenever you interact with your customers, one of the most prevalent issues you'll hear about is the excessive fees that customers pay for OTTs on an individual basis. Customers are constantly in search of a comprehensive broadband and entertainment package. Because the average monthly fee for a cable or DTH package is 300 rupees. The average monthly fee for five popular OTT apps is 650 Rupees. They pay roughly 1000 Rupees as a group. Instead, if they used our service, they would be able to watch both Live TV and these OTTs at a lower cost. Get unlimited OTT entertainment at an affordable price range with YuppTV Scope.
These OTT services have completely enthralled the Indian public. Indian cellular network and Broadband Connections are also offering OTT subscription packs through ISP Providers, which is drawing customers. All of the aforementioned aspects contribute to the success of the OTT platform in India and around the world. But wait, there's a catch. Subscribing to various OTT services has always been an expensive proposition for customers. As a result, there is a demand for a unified entertainment source that can combine popular OTT apps and deliver them at a low cost. It goes without saying that OTT provides more content than TV and allows users to watch shows before they are broadcast.
Stay tuned for more updates on OTT apps, Broadband Connection, and ISP Providers and OTT relations in our upcoming blogs.