With the introduction and rising popularity of many digital platforms freeing up the world's second-largest population, OTT entertainment is threatening traditional television's existing supremacy in India.
These OTT services' innovative features have rattled India's king of television. OTT platforms continue to revolutionize entertainment scenarios as they expand into one of the world's largest economies and most populous countries, India. Short series like Netflix's Money Heist, Sony LIV's Rockey Boys, and others are replacing traditional TV shows that span for years. The Indian public is beginning to understand the importance of quality over quantity, which is a key aspect of OTT platforms. These entertainment platforms have made inroads into metropolitan areas and are gaining traction in rural areas.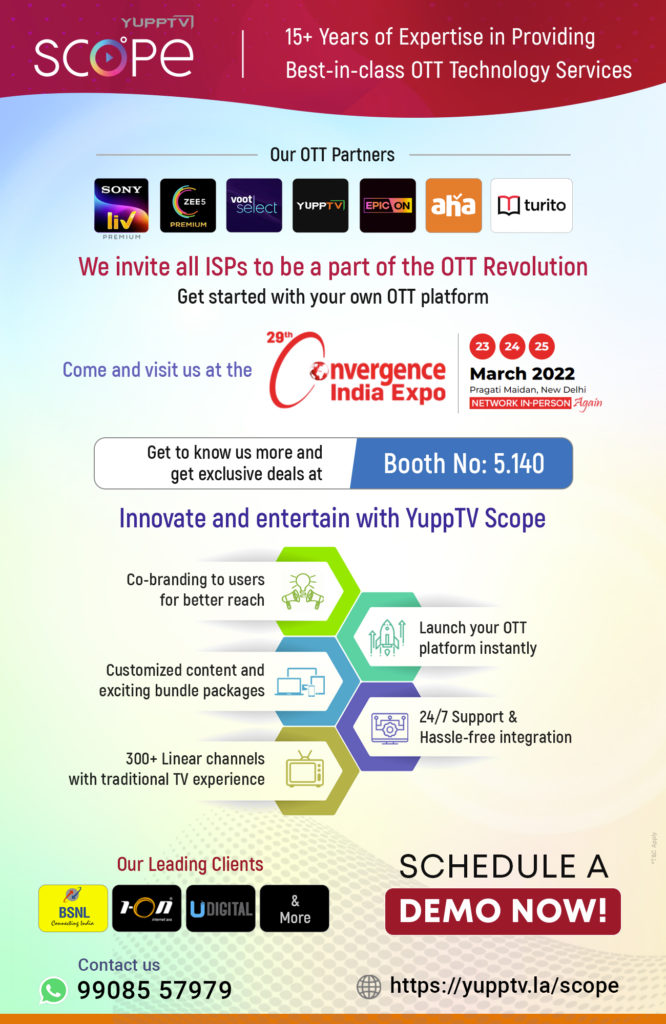 Netflix, Amazon Prime Video, Disney+ Hotstar, Voot Select, and Sony LIV, Zee5, among other OTT video streaming sites, have exploded in popularity in India. As the internet streaming audience grew beyond millennials and metros, and homemakers and senior citizens became OTT users, regional streaming applications for non-Hindi and non-English markets proliferated.  OTT Bundled subscription for more benefits and to cut subscription costs.
What is Live TV Streaming? 
It's just streaming, with the exception that the multimedia information is received and seen by the end-user in real-time. The word 'live' refers to the fact that the streaming media is simultaneously captured and transmitted in real-time, with no delay or time gap.
Live streaming is similar to streaming in that it allows the material to be delivered as a live stream of data via the Internet. Like podcasts or webcasts, live streaming is a simple and efficient approach to reaching an audience in real-time.
A webcast, on the other hand, can be transmitted both live and on-demand. Encoded streaming media files, for example, are designed for single-purpose transmission and real-time playing over the Internet.
From any nation on the globe, live TV is the most convenient method to view all Indian television networks. Only a few sites allow you to watch events live on the internet. For your convenience, the most popular Indian television stations are all listed in one spot, and you may pick them by genre or language.  
YuppTV Scope Live TV allows you to view Hindi, Telugu, Tamil, Malayalam, Gujarati, Kannada, Bengali, Marathi, Oriya, English, Urdu, Punjabi, and Nepali channels in real-time. You can also easily view live TV news in the language of your choice.  
The channels are divided into categories such as Popular, Trending, Music, News, Entertainment, Spirituality, and Life, allowing you to choose from the greatest of channels in a variety of languages. OTT platforms for Movies, Live TV, News, Sports, Music, and everything you need.
One of the finest aspects of YuppTV Scope Live TV is that the most popular program airing at the moment is automatically displayed at the beginning, making it easy to find your favorite shows. This works even if you aren't subscribed to the languages you choose. Choose the language you wish to look in and discover what the most popular programs are at the moment. With YuppTV's advanced functionality, you'll never miss another episode of your favorite show.  
Companies are under more pressure than ever before to keep up with demand and offer video content to numerous platforms as customers shift away from traditional cable TV and toward premium OTT programming. Premium OTT is an appealing choice for content creators since it offers several options. The shift to OTT video content brings us a whole new universe of opportunities to sell premium video content and media, and to do it in a way that grows income over time by utilizing a better understanding of consumer video viewing patterns.
Specialist or specialized premium OTT platforms are also becoming more accessible, particularly for providers with low-cost access to distinctive, high-quality video content and a well-defined, targeted consumer group. Essentially, this platform offers a single subscription to all major OTT services, such as Sony Liv, ZEE5, Voot Select, and a variety of live TV channels. Due to the single subscription-based strategy, you longer need to install several apps on your devices. 
You can watch Live TV online and OTT content from ZEE5, Sony LIV, Voot Select, Aha, and YuppTV with a single subscription. From our partner apps, you get to watch up to 400+ live channels, 1000+ TV shows, 500+ originals, and 10,000+ movies. To watch content on PCs, mobile phones, iPads, tablets, smart TVs, you can download the YuppTV Scope app. You can simply find new movies, TV episodes, and web series from across the globe on our streaming apps. With YuppTv Scope, you can watch all your favorite and most popular shows before the telecast with just a click. With YuppTv Scope, you get hassle-free content discovery at your fingertips. And it's absolutely FREE for the first 30 days.  
We hope this blog has been helpful in clearing all your doubts regarding Live TV, Live TV streaming, Live TV News, Live TV Channel, Live TV Online, and premium OTT content. Stay tuned for more such blogs.