Bundesliga 2021-22, Germany's premier football tournament, is in its 59th season in 2021–22. It began on August 13, 2021, and will end on May 14, 2022. The Bundesliga fixtures were released on June 25, 2021. Bayern Munich are the defending champions of the Bundesliga since 2013. The Bundesliga includes a total of eighteen teams in the 2021–22 season. In the Bundesliga 2021-22, a total of 18 teams will compete, including Bayern Munich, Borussia Dortmund, Hamburger SV, Werder Bremen, Borussia Mönchengladbach, and VfB Stuttgart. Bayern Munich has won the trophy 30 times, Dynamo Berlin has won it 10 times, and FC Nürnberg has won it 10 times. The Bundesliga has the largest average attendance in Europe, with over 40, 000 fans every game. 
Robert Lewandowski set a new record of 41 goals last year as Bayern Munich won the Bundesliga 2020-21 title. Bundesliga is one of the top leagues, as well as one of the best national leagues and the world's most popular football league in terms of average attendance. Watch WI Tour of Srilanka with the YuppTV Scope.
Bayern Munich was the 98th establishment's defending champion. Bayern Munich set a new record by winning Germany's main football league Bundesliga nine times in the 2020-21 season.
Let's take a look at the Bundesliga results, so far,
Table 2021 -2022 Matchday: 14
Union Berlin 2-1 RB Leipzig
B. Leverkusen 7-1 Greuther Furth
Hoffenheim 3-2 Eintracht Frankfurt
Mainz 05 3-0 Wolfsburg
FC Augsburg 2-3 VfL Bochum
Arminia Bielefeld 1-1 Koln
B. Dortmund 2-3 Bayern Munich
Stuttgart 2-2 Hertha BSC
B. Mönchengladbach 0-6 SC Freiburg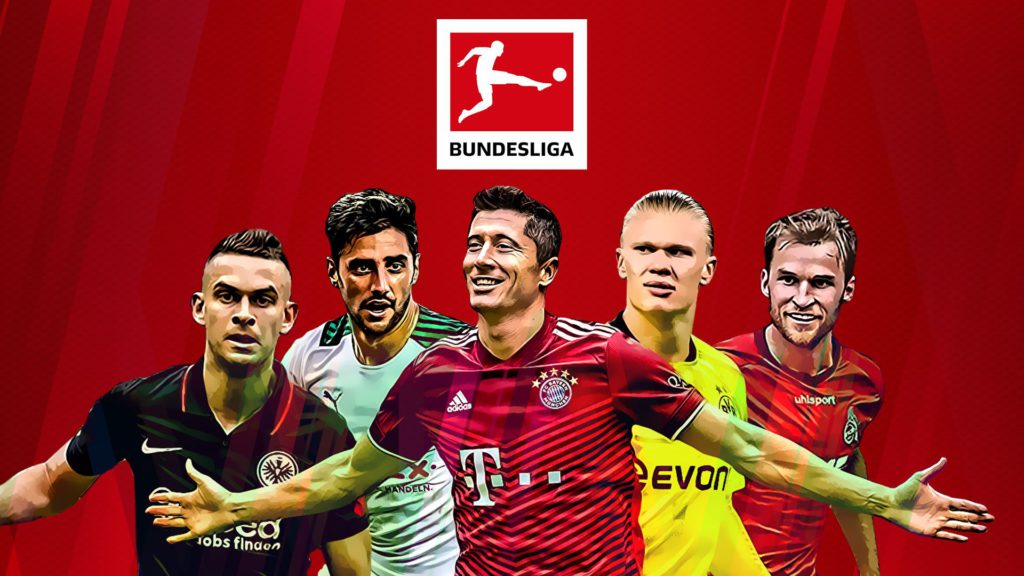 Bundesliga 2021-22 Table:
| | | | | | | | |
| --- | --- | --- | --- | --- | --- | --- | --- |
| Position | Teams | Match Played | Win | Draw | Loss | Goal Difference | Ponts |
| 1 | Bayern Munich | 14 | 11 | 1 | 2 | 30 | 34 |
| 2 | Borussia Dortmund | 14 | 10 | 0 | 4 | 13 | 30 |
| 3 | Bayer Leverkusen | 14 | 8 | 3 | 3 | 16 | 27 |
| 4 | SC Freiburg | 14 | 7 | 4 | 3 | 12 | 25 |
| 5 | Hoffenheim | 14 | 7 | 2 | 5 | 8 | 23 |
Bundesliga 2021-22 Table
Bayern Munich defeated Borussia Dortmund in the Bundesliga live once more. On Saturday, a brace from Robert Lewandowski helped the league champions come from behind to win a five-goal classic. Jude Bellingham's curling pass found Julian Brandt in the box in the fifth minute, giving the hosts a great start to the game. However, the lead was short-lived, as Lewandowski quickly reclaimed parity.
Thomas Muller snatched the ball off Mats Hummels and passed it to the former Dortmund striker, who finished with panache. Watch the best of all-time comedy Flicks for an entertaining week with YuppTV Scope.
Borussia Dortmund began in the same manner as the first half. It was Haaland who scored this time, with Bellingham in the mix once more. Dortmund drew level on the night as his curling shot beat Manuel Neuer's full-stretch effort. Both teams were on the lookout for the winner.
Bayern Munich, on the other hand, scored the game-winning goal when Lewandowski scored a penalty kick. Bayern Munich has moved four points clear atop the Bundesliga 2021-22 Table with this victory.
Bayern Munich has won six of their last seven matches against Dortmund, scoring more than once on six occasions. Bayern controlled the game in every way, scoring more goals and having more possession. They completed more passes and appeared to be better organized than their opponents.
Upcoming Bundesliga Fixtures 2021 -2022 Matchday: 15
11 Dec, Saturday
Köln vs Augsburg | Hertha vs Arminia | VfL Bochum vs Dortmund | Bayern vs Mainz | SC Freiburg vs Mönchengladbach | Wolfsburg vs VfB Stuttgart |
12 Dec, Sunday
Furth vs Union Berlin | Eintracht Frankfurt vs Bayer Leverkusen |
With a 3-2 win over second-placed Borussia Dortmund on Saturday, Bayern Munich extended their lead at the top of the Bundesliga to four points. At Signal Iduna Park, Dortmund's goals came from Julian Brandt and Erling Haaland, but Lewandowski scored and converted the game-winning penalty on either side of a Kingsley Coman goal. Bayern has now won seven consecutive games against Dortmund, including five Bundesliga wins and two German Super Cup victories. When Dortmund captain Marco Reus appeared to be fouled by Lucas Hernandez, the team was unlucky not to be awarded a penalty. Lewandowski's goal was his 22nd in 15 Bundesliga outings versus Dortmund, whom he left in 2014.
Plucky Hertha Berlin drew 2-2 with Stuttgart in coach Korkut's first game. The visitors earned a point thanks to two goals from Stevan Jovetic, who keeps them one point clear of Stuttgart in 15th position in the table. In contrast to previous games against Augsburg, Bayer Leverkusen, and Freiburg, Hertha managed to endure a late period of pressure without conceding.
Hertha Berlin's risk on a new coach paid off yesterday, as the squad fought back to earn a 2-2 draw in the Bundesliga against Stuttgart in Tayfun Korkut's first game in command. The visitors earned a point thanks to two goals from Stevan Jovetic, who keeps them one point clear of Stuttgart in 15th position in the table. In contrast to previous games against Augsburg, Bayer Leverkusen, and Freiburg, Hertha managed to endure a late period of pressure without conceding.
Record-breaking Freiburg runs berserk against B. Mönchengladbach, winning 6-0. Freiburg destroyed hosts Borussia Moenchengladbach 6-0 on Sunday, with the finest first 45 minutes by an away team in Bundesliga history, and moved up to fourth place. Freiburg scored five goals in the first 25 minutes, becoming the first away club in the Bundesliga to do so, and Mönchengladbach was left frightened to their core. Lucas Höler headed in from a meter away to make it 5-0 in the 24th minute after another failed Mönchengladbach attempt to clear a free-kick that was floated into the box.
Bundesliga stars 2021-22
Robert Lewandowski, Club – Bayern Munich, Goals – 16
Robert Lewandowski seemed to be getting better and better at Bayern Munich, despite the fact that he is 33 years old. The striker is the defending European Golden Shoe winner and might win it for the second year in a row. He got off to a fast start in the 2021-22 Bundesliga season but will face heavy competition from Dortmund's Erling Haaland.
Patrik Schick, Club – Bayer Leverkusen, Goals – 12
Patrik Schick scored nine goals in the 2021-22 Bundesliga season, and he is on track to considerably exceed that total this year. Schick is Bayer Leverkusen's key striker and a member of the team seeking to qualify for the Champions League this season.
Erling Haaland, Club – Borussia Dortmund, Goals – 11
Erling Haaland, who is only 21, is already competing with Robert Lewandowski for the title of Bundesliga high scorer. Erling Haaland has sustained his goal-scoring streak, scoring braces against Union Berlin and B. Leverkusen.
Taiwo Awoniyi, Club – Union Berlin, Goals – 9
Taiwo Awoniyi of Union Berlin had scored five goals in the Bundesliga last season, so he's already surpassed his previous total. The Berlin side has had a solid start to the Bundesliga this season, and Awoniyi's goals should help them keep their position.
Catch all the action of Bundesliga 2021–22 on YuppTV Scope with a single subscription. And it's absolutely FREE for 30 days. Yes, you've heard that right. Watch all the live sports action and more across the globe on a device of your choice. Now, unlimited entertainment is just a click away!
YuppTV Scope offers more than 300+ live TV channels, 8000+movies, 500+TV shows, 100+ original content, live sports, news, and others in 12+ languages. With YuppTV Scope, you get hassle-free content discovery with just a single click. That's not all. You can watch the shows before the telecast, get more content than TV, and you also don't need Cable/DTH service.
Grab the FREE Trial offer now and enjoy all your favorite sports with YuppTV Scope!