The opening edition of Legends League Cricket is now going live on SonyLIV and it is for sure a treat for all the cricket fanatics out there. The fans of the game never wish to see their heroes retiring from the field. Many such retirements have shocked the audience when they realize they'll never see the players in the game again.
Legends League Cricket is trying to end this scenario by reinstating retired players again on the pitch. The game brings together some of the world's finest veteran cricketers on the field, distributed among three teams. In this league cricket, World Giants, India Maharajas, and Asia Lions compete against each other in a 9-day long event at the Al Amerat Cricket Ground (Ministry Turf 1). The league is set to play in two rounds, namely Group League Round 1 and Group League Round 2, with three rest days in between.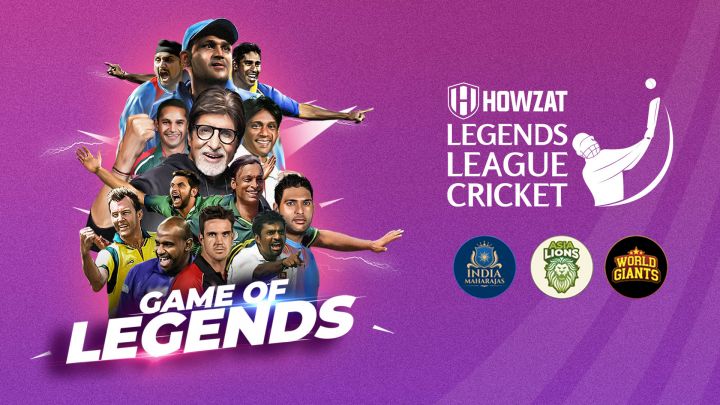 Points Table:
| | | | | | |
| --- | --- | --- | --- | --- | --- |
| Teams | Matches played | Won | Lost | Points | NRR |
| World Giants | 4 | 3 | 1 | 6 | 1.008 |
| Asia Lions | 4 | 2 | 2 | 4 | -0.452 |
| India Maharajas | 4 | 1 | 3 | 2 | -0.437 |
Points Table
Game Till now:
The Legends League Cricket was inaugurated on 20 January 2022 at 8. p.m (IST) and is set to conclude on 29 January 2022. The first match was played between India Maharajas and Asia Lions, wherein, Virender Sehwag and Mohammad Kaif led India Maharajas won by 6 wickets and scored 175 runs in 5 balls.
The second game had World Giants playing against Asia Lions on 21 January 2022. Unlike the first match, Asia Lions showed a better performance in this one and had a 6-wicket win against World Giants. Kevin O'Brien from World Giants emerged as the player of the match by scoring 95 runs with back-to-back sixes before he was outthrown from the game by aced Sri-Lankan player Muttiah Muralitharan. Stream the Fa Cup 2021/22 to grab some sportsmanship qualities from the legends.
The third match was on 22 January 2022 between World Giants and India Maharajas, in which World Giants won by 3wickets and scored 210 runs. Match 4 on 24 January 2022 was played by Asia Lions and India Maharajas. After winning the first match and nearly pulling off wins in the other match played, India Maharajas once again accepted defeat at the hands of Asia lions, who won by 36 runs.
Match 5 occurred on 26 January 2022, which saw World Giants rising to victory over the Asia Lions by 7 wickets. The former cricketer from England, Kevin Pietersen in his terrific batting, scored 86 runs in just 38 balls, which included 7 huge sixes. Kevin O'Brien and Kevin Pietersen as a duo scored 100 runs off of 45 balls and did not even give a chance to the Lions to mark a space in the match. Watch Australia Open Tennis and be an amazing sport in life.
The next match was also no luck for India Maharajas, as they lost the game in match 6 to World Giants by 7 wickets. This game was the last option left for the Maharajas to enter into the finals. It is unfortunate that they just fell off by lacking just 5 runs. Both Upul Tharanga and Asghar Afghan from Asia lions scored half-centuries. The Maharajas had to let go of its terrific player Naman Ojha in the third over and subsequently lost Wasim Jaffer and Yusuf Pathan.
In the finals of Legends League Cricket 2022 edition, we will witness World Giants playing against Asian Lions in a tight match since both the teams have exhibited excellent performance in the previous matches. The grand finale will take place on 29 January 2022 at 8. p.m IST. By winning three out of four games played, the Giants stand at the top of the table followed by the Lions. According to the impressive matches played by World Giants, they have a high chance to win the finals. But the tables could change even at the last moment. So, let's wait and watch what happens.
You can now catch the finale of Legends League Cricket online, live on SonyLIV, available on YuppTV Scope. Watch all the nail-biting moments and the final battle of this unique cricket league on YuppTV Scope which is absolutely FREE for 30 days. Don't miss this opportunity.
Happy watching with Scope!